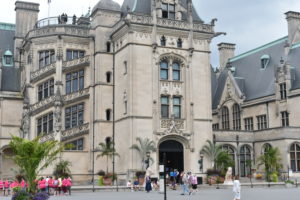 South Florida 8/21/17 partial eclipse
Memories are the building blocks for the stories we tell ourselves about ourselves, but like any other data, they have different weights.  The importance of a memory has to do with time and place, and that's why (at least in Anne's world) travel memories focus emotions. On a recent voyage, contrast was the name of the game.
My husband, Frank, and I visited the Biltmore House in the mountains of North Carolina on our way to Lake Jocassee on the border of the two Carolinas to view the eclipse totality.
The eclipse over Lake Jocassee, a man made lake built by Duke Power Company in the 1970s to provide hydroelectric power to the Carolinas, was authentic, a powerful natural force that required viewers to bend to a galaxy's schedule and to use special glasses to watch the moon block out the sun for a little over two minutes.
The Biltmore is another story.   It's a world of European culture and artifice that was built in the late 1800s for members of the ultra rich  Vanderbilt family.  Libraries, music rooms, Durer prints and gardens are surrounded by the soft shifting blues of the Appalachian mountains.  George and Edith Vanderbilt were  sophisticated American aristocrats who had the taste to buy the best in European and American art for their country home.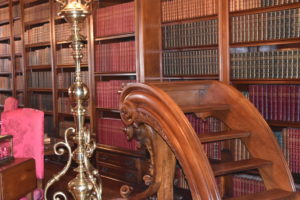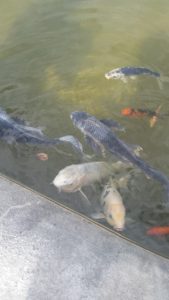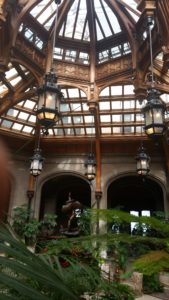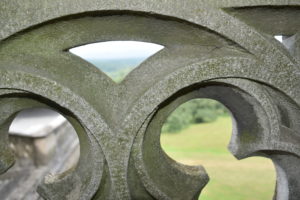 The Biltmore library.  The koi pond is in the Italian gardens at the Biltmore which is close to the cutting garden which is a step or two away from the conservatory.  The last photos are the entrance to the house and a peek at the mountains through a balustrade outside of the library.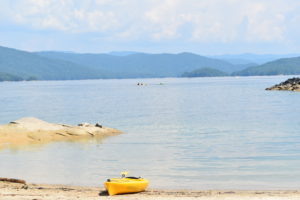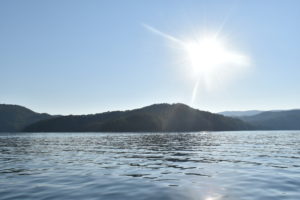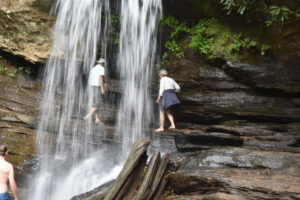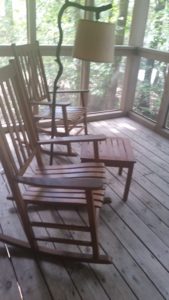 The eclipse was simple and powerful in contrast to the civilization represented by the Biltmore.  The photos are of Lake Jocassee and the porch of the cabin where we waited for the eclipse.  Accommodations were rural–a cabin on the shore of the lake and  food was carted in for the two day stay because grocery stores were at least  10 miles down the state road (SC 11).  Nights were black and full of stars (when clouds permitted) with a soundtrack of insects at night and birds in the early morning.  As the eclipse neared totality, and its shadow moved across the lake toward the shore,  the sound track played  as the sun darkened.  Birds went to sleep and the insects woke up in the space of a couple of minutes.
If I had to choose between the two experiences, I would choose nature and the eclipse, but the contrast of the Biltmore and totality is the true story.