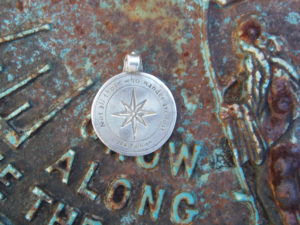 All Those Who Wander are not Lost
"All that is gold does not glitter, not all those who wander are lost; the old that is strong does not wither, deep roots are not reached by the frost." J. R. R. Tolkien
  Tolkien, who wrote The Hobbit and its sequels, was a pioneer of  high fantasy.  That doesn't mean that his books, which gained popularity during the free-wheeling and experimental 1960s, espoused getting high.   High fantasy offers readers an escape from the present into an illusory and magical past or future.   And in my imagination, at least, so does travel.
The compass rose  which allows map readers, sailors and travelers to find the cardinal directions easily is a great symbol that offers direction in a new world of perception.
During my recent travels to Vancouver, WA outside of Portland, OR, I took a workshop from Cindy Pope, an artist who showed me how to use a Silhouette Curio, a die-cutting machine for crafters, to etch EZ 960 silver metal clay.  I chose the compass rose as a symbol, and she talked me through the time-consuming process of  setting up the software, working around the machine's quirks and limitations and finally etching and cutting the clay.  Then the clay is fired at 1650F for two hours in a kiln, patina is applied and the pendant is polished.  It is an art form that combines  digital
 age know-how and the ancient art of metalsmithing. All this work can allow an artist to design work that communicates on many levels.
I photographed the pendant on an old sundial that was liberated from a local trash heap.  It shows a Father Time figure and its own quote: "Grow Old With Me, The Best is yet to be".