White Supremacist Richard Spencer's speech recently in Gainesville, FL (home of the University of Florida)  was a milestone not only for the school–where students and locals turned out to heckle the speaker, but did not use violence to show their displeasure–but also for the the North Florida region. Alachua, Polk and Marion Counties.   These traditionally poor rural counties have bloody histories that include lynching and high Ku Klux Klan activity until well into the 20th century. It is  Trump country.
Apparently the locals refused to be manipulated by supremacist narrative.  First Amendment  (freedom of speech) rights were served by the hecklers protesting peacefully and Spencer being allowed to speak at the university.
North Florida with its high rural African-American and white Appalachian populations has always had something to say.
Whites–hillbillies in another time–who couldn't adjust to giving up pioneer isolation and self-sufficiency drifted to North Florida after the Civil War  and met an existing culture of ex-slaves who were equally attached to the land.
North Florida has spawned at least four artists who have added to an authentic American narrative based in the south. Tom Petty, a rebellious musician, Bo Diddley, an African American musician who was born in Mississippi and spent the last 30  years of his life in Archer, FL outside of Gainesville, Marjorie Kinnan Rawlings who authored The Yearling and Zora Neale Hurston who grew up closer to Central FL and wrote of gender politics in a black rural culture.
Petty first.
Petty was born in 1950 in Gainesville, FL.  He survived a physically abusive childhood, and found music early.  After marrying a local girl  (a union that would last over 20 years), he left North Florida to look for the fame that found him relatively early.  His music was informed by the rock of  the 1960s and 1970s but his ability to tell a story in a few words was pure country. His early showmanship featured Confederate flags, but those flags were removed as his act matured.  Here are some edited lyrics from one of his most famous songs:
Well she was an American girl
Raised on promises
She couldn't help thinkin' that there
Was a little more to life
Somewhere else…
It was kind of cold that night
She stood alone on her balcony
She could hear the cars roll by
Out on 441
Like waves crashin' on the beach
Highway 441 runs outside the east side of Gainesville and is essentially  a backbone for a network of rural roads heading north and south. Petty referenced that off-the-main-road theme again in the song US 41, an ode to a highway that runs from Miami through Big Cypress Swamp and north to Michigan.  The sound is pure country–a far cry from the rock anthems of Refugee and Won't Back  Down.
Petty's music often used a guitar riff fashioned by Bo Diddley 1928-2008 (born Elias Otha Bates who later changed his name to Ellas McDaniel to honor the aunt who raised him).
He was born in Mississippi, but his family moved to Chicago in 1934.  McDaniel became a trombone and violin player in the orchestra of the local Ebenezer Baptist Church.  By the time he was 18, the driving music of the local Pentacostal church had claimed him.  He progressed to the  blues and jazz clubs of South Side of Chicago where his influences included John Lee Hooker and Muddy Waters.  Although Bo Diddley's music–He called himself The Originator–is American and has influenced countless musicians around the world, it reflects a wide variety of influences.  Here are Bo Diddley and Petty–two children of the American South at least musically– playing Bo Diddley's classic guitar riff on a song named Mona.
Bo Diddley would live for many years in New Mexico, but he eventually settled in Bronson, Florida.  His grave and headstone can be seen along Highway 26 between Gainesville and Cedar Key.  It's just as flamboyant as the performer it shelters.  Both performers left sizeable estates, but Bo Diddley's financial legacy is tainted by a fight between his lawyers and  22 McDaniel heirs.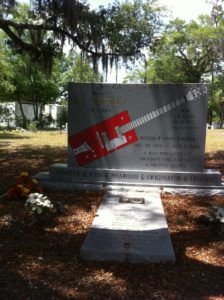 This is the first installment of my RIP posts.  Marjorie Kinnan Rawlings and Zora Neale Hurston will follow.