My blog=my alternate world, so here in Anneland we are wishing each other Happy Holidays all over the place.  Because I know a bit about Florida history and I like to make jewelry, paper art, lawn ornaments, coloring books and anything else that crosses my mind,  I chose a friend's house decorations as my virtual Christmas card.  The small concrete block house, the antlers and the handmade wreath comprised of holiday flowers probably imported from China add up to an holiday wish far from the malls, glitzy churches and internet memes that reflect (in my opinion) modern desensitization to the holiday's symbolism and history.
The home is located in a Riverland Road neighborhood off of Davie Blvd.  East/west Davie Blvd. connects two iconic  north/south Florida highways, US 1 on the east and 441 on the west. All three roads lead to a vanishing horizon:  Florida's middle class history of folks that worked at the car dealerships and small restaurants of 441 or as service people who spent lifetimes in the touristy expensive eateries of US 1.  Davie Blvd. is one more road that leads to the end of a continent.  Just east of US 1 is the beach .
Decorations in the Riverland neighborhood can be idiosyncratic at the best of times. The antlers will be up year round and the wreath will come down when my friend damn well feels like it.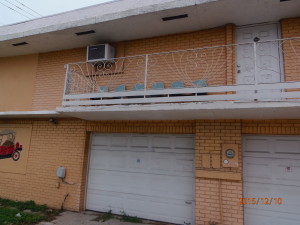 Faded  Miami Vice Colors
The neighborhood that surrounds her house is just as individualistic as you would expect.  Here's a building that was painted about the time the pre-cable Miami Vice series (1984-1990) was popular on TV.  The peach with aqua could-be-collectible-someday chairs  give it away.  The fancy white wrought iron barrier on the second floor probably dates back to the 1950s.  Another artisan touch on the old garage with living space above it is an inset tile mosaic of a red vintage car.
So this may be the longest holiday wish you've received this year, but in Anneland sometimes reflecting upon other folks' histories is more creative and less stressful than responding to conventional holiday sentiments.