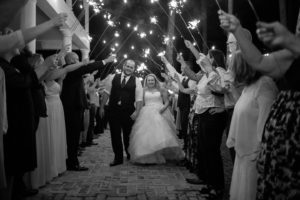 Here's a look at the six months since my last post.  My youngest son Kyle and long time fiance Kim were wed on March 11.  Here's one of my favorite photos taken at the end of a perfect South Florida day.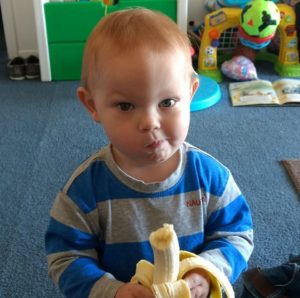 This is a great picture of my inner child.  Sebastian, the son of a young friend, is the recipient of a number of letters from me over the short two year span of his life.   Here's an excerpt from the latest bit of advice I sent him about how to handle his parents' rare weekends without him:
"  I know you were having fun with your grandparents.  Older folks don't sweat the small stuff, but that's not what you want.  You want small stuff sweated, worry and the constant contest for supremacy so you will be ready for the savagery of Pre-K where wanna-be alphas  strut their color coordinated knits  and sweeter lil' folk learn manipulative ways of avoiding the big dudes.
I suggest that you learn some manipulative strategies in order to turn this situation in your favor.  When left with your grandparents, run a low-grade fever until your parents walk in the door.  That is well within your capabilities.
Withdrawing from your usual activities and staring moodily out the closest low window is a NO NO.  Your grandparents will look at the quiet time as a little reprieve and may even forget to tell your Mother that you seemed a little off. "

Here is a  a healthy Frizzle Head chicken. My last post in Nov. of 2016 involved a sickish Frizzle Head named Larry who lives at one of my favorite places, Majorie Kinnan Rawlings' home in Alachua County.  I've lost the phone number and email that I need to check on Larry, but will report on him in August.  Husband and I are driving up to Devil's Fork, SC to view the eclipse on August 21 (roughly 2.5 minutes)  and will visit the Rawlings home on the return trip.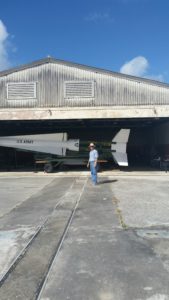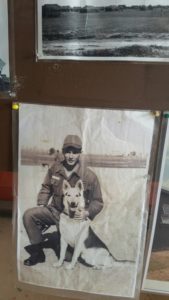 Here are a couple photos–husband Frank with missile and an unidentified soldier and guard dog–  taken on a trip to an abandoned Cold War Nike missile site outside of Everglades National Park in southernmost Florida.  During Kennedy's term in office,  missiles were at the ready if Cuba/Russia decided to start a war.  It is an echo of Old Florida which was a hotter and tougher  place than real estate marketers who use the concept to promote sales would have you believe.